BLOG
Posted by Amelia Layne on
Mahi-Mahi, Marlin, Yellow Fin Tuna, King Fish or Salmon. Choosing which type of fish you should cook depends on a number of things like the preparation method, fish texture, and what you are making. Here are some of our recommendations for choosing the right fish:   1.     Choose a Firm Fish when Grilling. There is nothing worse than watching your fish crumble way on the grill and drop down into the coals, lost forever! To avoid this, use a tough fish like Marlin, or Grilling Tuna.   2.     For Ceviche use a Soft, White Flakey Fish. Mahi Mahi and King Fish are the...
Posted by Amelia Layne on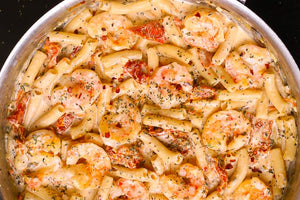 Calling all shrimp lovers. Keep a bag of Shorelinez shrimp in your freezer ready to quickly thaw and make one of these oh so delicious shrimp meals. Perfect for the whole family. Click for the link to the recipe...   1. Shrimp Alfredo Pasta 2. Shrimp Tacos 3. Shrimp Summer Rolls 4. Coconut Shrimp 5. Thai Shrimp Curry     Shorelinez Barbados has bags of shrimp for $20 BDS (VAT included) Shop our shrimp collection online and try out these recipes for dinner this week.